Rechargeable Smart Lamps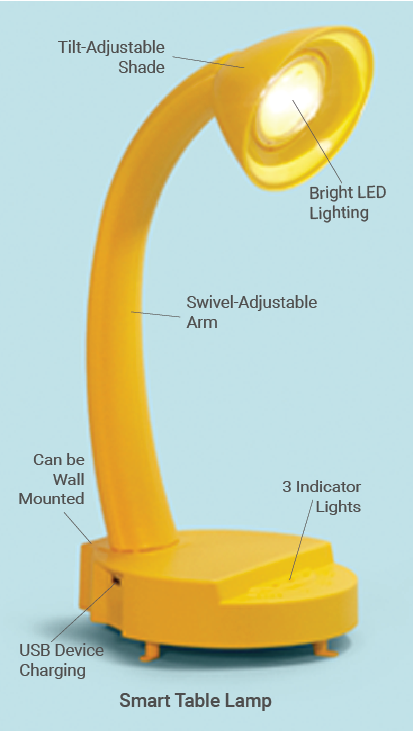 The Rechargeable Smart Lamp.
The everyday lamp that can be used during frequent power outages.
Engineered with patented technology and features to keep your home or business lighted when without electricity.

The Smart Lamp uses high-voltage, rechargeable LFP batteries. LFP batteries are the fastest charging, can be recharged thousands of times, and have the power to charge USB devices. With 3 Brightness Settings, the Smart Lamp will last 18 hours on the low setting and 4 hours on high.

Ergonomic and stylish, the Smart Table Lamp is designed to be portable. Carry it where you need light. If you need stationary lighting placed higher on a wall, choose the Smart Wall Lamp.

Every Smart Lamp is custom-ordered to meet your specific needs. Select Bright or Warm LED lighting. Choose from eight colors. Mix and match colors for the Base, Arm and Shade in combinations you select. And there's more.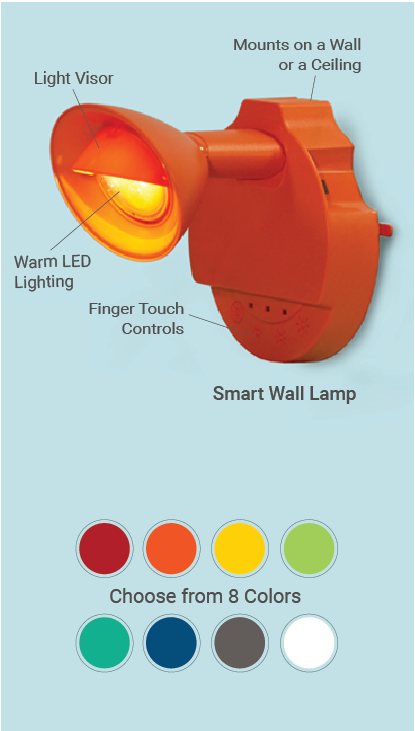 • Table Lamp or Wall Lamp options.
• 8 colors to mix & match.
• Bright LED Light (5000K) or Warm LED Light (3200K) color temperature.
• Battery Power Charging: Solar, AC Plug-In, USB Power Source. Or choose all three.
• Accessories include:
– Lens Filters in Frosted White, Red, Yellow or Blue.
– The Smart Cable allow one power source to charge up to four lamps.
– The Smart Cable is perfect if your home or business needs more than one lamp.
– Wall Brackets allow mounting on a wall (vertical) or ceiling (horizontal).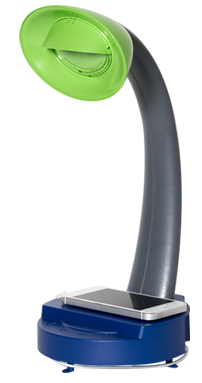 For a lifetime of use, InteliEnergy designs and builds first-rate quality into every product.
Outside, the Smart Lamp is made of a strong ABS plastic that withstands knicks and scratches. Inside, it's microprocessor controlled with solid state circuitry.

The No-Fail Finger Touch Controls are like those found on Smart Phones. Your finger activates the settings. This means no knobs or switches to break.

And every InteliEnergy Smart Lamps undergoes a unique 7-point Quality Test using our proprietary Automated Programming & Test Appliance.
The InteliEnergy Smart Lamp adds up to be a smart investment.
We start with Smart Technology, Functionality and Features. Then make it customized to suit your needs. Build it with quality. But to make it truly smart investment, we add even more value into our products.

Our Open-Source design means you won't be forced to proprietary architecture like other manufacturers. This means we want dealers to source rechargeable batteries, AC power supplies and solar panels, then pass savings to their customers. It also means you can leverage your existing Solar Home System because our smart products can connect directly to your 12V SHS.

Also, save money on batteries. LFP batteries can be recharged thousands of times.

Protect your local environment. Our InteliEnergy products consider the importance of natural resources and the environment. Many of our competitors offer throw-away battery products. When they can no longer hold a charge you throw the entire product away. This harms your local environment and is a bad investment. With InteliEnergy products, we know there's a better way.